---
Alu Expander Roller
Name:
Alu Expander Roller
Material:
Aluminum alloy
Diameter:
130,150,180
Length:
Special made
---
---
Aluminum Alloy Spreading/Spreader Expander Roller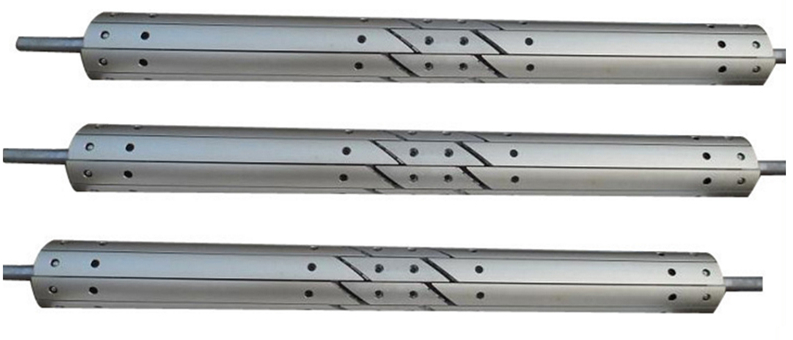 Usage

This type of aluminum alloy spreading roller is suitable for textile industry,dyeing,printing,packing,papermacking,thinfilm,complex,painting ,non-woven…etc manufacturing enterprise and machinery manufacturer.
Aluminum Slat Expanders are used for wrinkle removing on coating machines which is available in any length and standard diameter 6-. Bigger diameter can be made as per specific requirements. Normally plain surface is provided but some applications serration is required on surface for gripping. While ordering should provide the application temperature, web material, plain or serration required on surface, maximum speed of web material to meet all your requirements. For soundless working the rolls are also available with ball bearing type cam mechanism also. Normal expansion is 25mm.
1. Structural Principles

Mainly by the outer curved aluminum alloy hollow film, roller, tilting wheel and mandrel and other components.
Three sets of curved aluminum alloy hollow sheets are arranged on the surface of the roller, the middle group is fixed on the roller, and the two sides are embedded in the groove of the roller, and the ends are connected to the outwardly inclined On the wheel. When the sheet follows the roller body rotation, the sheet drives the tilting wheel to rotate, and the tilting wheel drives the sheet outward and reciprocates inward. The sheet moves from 0° to 180° and moves back from 180° to 360°. The substrate is stretched by the axial stretching of the outwardly moving sheet when the sheet is wrapped around 0°-180°.
2. Features

Horizontal stretch flattening, flattening ability, can withstand the tensile strength of the larger substrate, the thick substrate can also be effective flatten
Safe and reliable, durable, easy to install, easy to repair
There are two types of bearing housings
Flatten debugging simple, just a little turn the core can be a good tune for all kinds of causes wrinkles can be eliminated. No need to adjust regularly. Widely used in textile, printing and dyeing, printing, paper, film, composite, coating, non-woven fabrics and other industries in the low-speed production

3. Specification
| | | |
| --- | --- | --- |
| Product Name | Expander roller(Alu Alloy) | Expander roller(Stainless steel) |
| Outer Diameter(mm) | 130/150/180 | 130/150 |
---